Annual Meeting 2020 IAH Netherlands (Monday the 25th of May 2020, 4-6pm, CEST)
16:00 Opening
16:05 Presentation Vincent Post (Hydrogeology in the Netherlands: boring or booming?)
16.25 Presentation Geert-Jan Nijsten (Number crunchers or talking heads. Who can solve today's groundwater problems?)
16:45 IAH general assembly (status, activities, financial report)
17:15 Digital networking
---
Hydrogeology in the Netherlands: boring or booming?
Vincent Post spent nea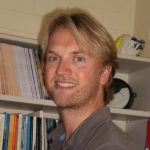 rly half of his career as a hydrogeologist overseas. After working at the Vrije Universiteit in Amsterdam for many years, he moved to Australia in 2010 and has been working in Germany since 2016. From this perspective, he will present his vision about the international position of Dutch hydrogeology. In what subject areas does it excel? Are there areas in which it falls short? And how do foreign colleagues view groundwater research in the Netherlands?
---
Number crunchers or talking heads. Who can solve today's groundwater problems?
Geert-Jan Nijsten trained as a classic hydrogeologist, combining fieldwork and number crunching, with a strong focus on groundwater exploration. After an internship in Mauretania and work in Botswana, he got involved in nitty-gritties of Dutch groundwater management and policy development. In recent years Geert-Jan has also worked in international programs, often aimed at improving (international) groundwater management at institutional levels. In his talk Geert-Jan will highlight how groundwater issues across many countries have developed over time, and will share his view on who is best equipped to solve current issues related to limited groundwater resources: Is it the number crunchers / 'rekenhydrologen' or is it the 'talking heads' also known in the Netherlands as 'praathydrologen'?
---
The meeting will take place in MS Teams and can be accessed through the following link: Join Microsoft Teams Meeting